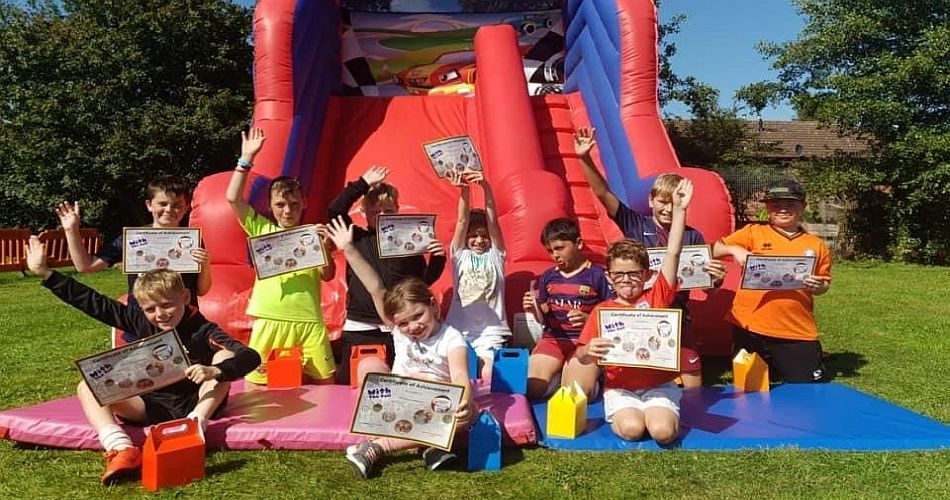 Hereford FC U18 Girls
2016 / 2017 Fixtures, Results and League Table
Since the decision was made to create the U18s girls team, a squad of 15 local players has been selected, the team won their first ever friendly match and remained unbeaten in a pre-season tournament.
The girls continued to make history by comfortably winning their first game in the GFA U18 Girls League against Fry Club. The 9-0 away win in Keynsham set them up nicely for their first home game on 25th September against Forest Green Rovers.

The team are coached by United in the Community coaches George Leyshon-James and Laura Davies. Laura added, "It's a great platform for the girls, both myself and George have been very happy with the progress made so far. We have high expectations for the squad and are confident that they can achieve great things during their first season. The support and publicity we've received has been fantastic, we're hoping it continues, particularly for our home matches".
All of Hereford FC U18 Girls home fixtures will kick-off at 10.30 am at Victoria Park, Field Grove View, HR1 1AW.
27 November
Hereford FC Girls U18 4 – 0 Tuffley Rovers Girls U18

1. Bull (C) 2. Young 5. Forrest-Blake 6. Holman 7. Kenny
8. Conway 9. Brown 10. Stezaker 11. Bushell 12. Elcox-Bond
17. Sullivan. Subs: 3. Devereux 14. Layton 15. Briggs
Goalscorers: Briggs (2), Bull, Holman
13 November
Hereford Lads Club FC Girls U18 1 – 10 Hereford FC Girls U18

1. Conway 2. Young 3. Devereux 4. Bull 5. Forrest-Blake
6. Elcox-Bond 7. Stezaker 8. Holman 9. Brown 10. Kenny
11. Sullivan. Subs 12. Greaves 14. Briggs
Goalscorers: Conway (5), Brown (3), Bull, Devereux
6 November
Hereford FC Girls U18 4 – 1 Hutton Juniors U18
This super Sunday saw a top of the table clash as Victoria Park welcomed Hutton Girls, who had travelled all the way from Weston-Super-Mare.
Hereford started the brighter of the two sides and had a great chance early on to take the lead from the penalty spot but it wasn't to be as it was put wide of the goal. Both teams were giving a good account of themselves as expected, with goalkeeper Devereux reading the game well to clear any danger and settle the home side.
It was Lauren Brown who broke the deadlock to give Hereford the goal they needed, as she extends her lead as the league's top goalscorer, after latching onto a through ball. Brown then doubled her tally for the morning halfway through the first half, as the little fox in the box calmly placed the ball into the back of the net. Hutton could've pulled a goal back shortly after, but Devereux calmly back peddled to stop the ball bouncing over her into the goal.
As the second half got under way, Hereford started to keep hold of possession in midfield, which allowed the attacking threat of Kenny and Layton to express themselves positively going forward.

The home side them extended their lead, as Bushell and Holman combined well down the left, with Brown completing her hatrick as she pounced and coolly slotted the ball home to make it 3-0. Captain Sian Bull grabbed the fourth, with Hutton scoring a late consolation goal as the game ended 4-1.
At the halfway point, the Hereford side sit four points ahead at the top of the table in what has been an impressive few months for the girls.
1.Devereux 2.Young 3.Holman 4.Bull 5.Forrest-Blake 6.Conway 7.Stezaker 9.Brown 10.Kenny 11.Sullivan 14.Layton. Subs: 8.Greaves 12.Bushell 15.Briggs. Goalscorers: Brown (3), Bull.
30 October
Hereford FC Girls U18 5 – 1 Hereford Lads Club Girls U18
The first meeting between the two Hereford sides did not disappoint, with a full squad to choose from and a first appearance for new signing, Megan Briggs.
The away side made it difficult for the Hereford FC Girls, who've only dropped two points this season in an away draw against Tuffley. Both teams created chances throughout but the deadlock was broken just before half time when Nicole Sullivan slotted home giving the Bulls a 1-0 lead. Into the second half and it wasn't long before Sullivan grabbed her second on 48 minutes, followed by Lauren Brown on 64 minutes, to give the home side a comfortable lead.
Credit to Lads Club who kept piling on the pressure and got their reward on the 65th minute to make it 3-1. Captain Sian Bull headed home from a freekick with 10 minutes to go to settle nerves, with Brown scoring her second soon after & securing the win in this derby game.
1. Elcox-Bond 2. Young 3. Sullivan 4. Bull 5. Holman 6. Kenny 7. Stezaker 8. Conway 9. Brown 10. Layton 11. Bushell. Subs: 12. Devereux 14. Forrest-Blake 15. Greaves 16. Briggs. Goalscorers: Sullivan (2), Brown (2), Bull
16 October
Hereford FC Girls U18 9 – 0 Downend Flyers Girls U18

1. Holman 2. Elcox-Bond 3. Sullivan 4. Bull 5. Conway 6. Kenny
7. Stezaker 8. Layton 9. Brown 10. Bushell 12. Greaves
Goalscorers: Brown (2), Conway, Stezaker, Kenny, Layton, Holman, Bushell, Bull
9 October
Tuffley Rovers Youth U18 4 - 4 Hereford FC Girls U18

1. Brown 4. Bull 5. Elcox-Bond 6. Young 7. Conway 8. Devereux
10. Bushell 11. Stezaker 12. Holman 14. Sullivan 15. Kenny
Goalscorers: Kenny, Stezaker, Bull, Holman
2 October
Dursley Town Girls U18 0 - 10 Hereford FC Girls U18



1. Bushell 2. Young 3. Sullivan 4. Bull 5. Elcox-Bond 6. Forrest-Blake
7. Kenny 9. Brown 10. Conway 11. Stezaker 15. Holman
Goalscorers: Brown (4), Kenny (2), Bull, Holman, Conway, Stezaker
25 September
Hereford FC Girls U18 4 - 2 Forest Green

1.Young 2. Devereux 3. Sullivan 4. Holman 5. Forest-Blake 6. Bull
7. Kenny 8. Conway 9. Brown 10. Bushall 11. Stezaker. Subs: Layton
Goalscorers: Brown, Kenny, Layton and Holman
18 September
Fry Club Girls U18 0 - 9 Hereford FC Girls U18
Hereford FC U18's Girls got off to a flying start on their league debut with a 9-0 victory over Bristol side, Fry Club Girls. The Hereford team had spent minimal time together on the pitch prior to the game but it didn't take them long to get off the mark in this one, with captain Sian Bull hammering the ball home from outside the box, giving them lead within the first minute.
With the newly formed Hereford team eager to impress, it was pleasing to see every player adapting to new positions and formations introduced by the coaching staff. This gave Hereford an attacking edge over the home side, enjoying the majority of possession, with which they kept the ball well, moving it quickly and creating endless opportunities.
Credit goes to Fry's goalkeeper as she made save after save during the first 20 minutes, only to be beaten by a composed Lauren Brown shot. Another closely followed after Jess Kenny whipped a dangerous ball across the goal before Brown tucked it away for her second of the match.
Natasha Devereux came on and made an instant impact, scoring Hereford's 4th and 5th goals either side of half time, success coming from crosses out wide again. It was then time for Tinny Conway to get on the score sheet as she ghosted through the middle of the opposition's defence to calmly place her shot past the keeper. However, Sian Bull was not to be outdone and produced another great finish as she controlled the ball outside the box and placed it into the corner, making it 7-0 to Hereford.
As the game came to a close, hard work and determination paid off for both Megan Holman and Frances Layton as they both made it on the score sheet. The game ended 9-0 to the away side, a very convincing first league performance by the girls.
Starting XI: Webb-Harris, Holman, Forrest-Blake, Elcox-Bond, Bull, Conway, Bushell, Kenny, Stezaker, Brown, Layton.
Subs: Devereux